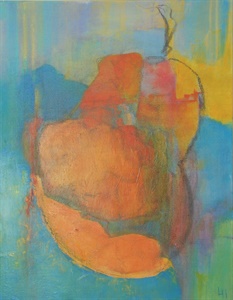 Artist Statement
My abstract paintings emerge in a realm that spans two dimensions to three as I bring sculptural sensibilities to canvas as object. Conversations improvised between color and form and texture evoke energy and movement. Along the way that interaction inevitably broaches the edge veering from balance, much the way a jazz riff can draw upon a simple idea to explore evolving possibilities.
SERIES:
Time and Place: "To go eastward one mile is to go westward one mile." Shunryu Suzuki
Haiku: quiet seeking
Music: visible sound, emotional adventure of composition or improvisation.
Earth: geology, shifts, rifts, faults, structures.
Realms: ephemeral views from the corner of the eye.
Windows: discrete events connect when massed in collections.
Sentinels: inspired by trees
Pears: metaphor, line, form, sculpture, each with distinct personality, stories to tell
Exhibitions and Awards
Selected Exhibitions
City of Albuquerque Art in Municipal Places Collection 2023
Wabi Sabi, Art Fluent Gallery, Massachusetts 2022
Resilience, Weyrich Gallery, Albuquerque 2021
Way Out West, CAFE 2020
Artsthrive, Albuquerque Museum 2020
ECHO ECHO ECHO, Oasis Gallery Albuquerque 2019
Art for the Eye and the Mind, Weyrich Gallery Albuquerque 2018
In Abstractia, Studio J, Albuquerque 2017
Spirit, Gyrotonic Studio, Albuquerque, 2017
Latitude & Longitude, Studio J, Albuquerque, 2017
Evolve and Advance, Seasons, 2017
Earth and other Realms, Trio, Albuquerque 2016
Biennial Members Show, Inpost Art Space, Albuquerque 2016, 2018
Fall into Color, Seasons, Albuquerque 2016
Music in Visual Art, Gallery 606, Albuquerque 2016
Presence, Trio Salon, Solo Show, Albuquerque 2015
Peripheral Edges, South Broadway Culture Center, Albuquerque, 2014
New Dimensions, Trio Salon, Solo Show, Albuqueruqe 2014
Critical Mass, Solo Show, One Civic Plaza, Albuquerque 2011
Seek Alternate Route, Solo Show, Inpost Art Space, Albuquerque 2009
High Fiber, Conrad-Wilde Gallery, Tucson AZ 2009
Gatherings, Open Space Visitor Center, Albuquerque 2009
On a Cellular Level, Solo Show, Harwood Arts Center, Albuquerque 2008
The Eyes Have It, Albuquerque, 2006, 2007, 2008
Rock Paper Scissors, Fuller Lodge Art Center, Los Alamos NM, 2006
Arte de Descartes VI, Stables Gallery, Taos NM 2005
"Wrap it Up: A Mixed Metal Art Exhibit" OFFCenter Arts, Albuquerque 2005
Western Threads, Phippin Art Museum, Prescott AZ 2003
Black and White, Fuller Lodge Art Center, Los Alamos NM 2003
Coleman Gallery Contemporary Art Invitational, Albuquerque 2002
New Era Art, UNM College of Fine Arts/515 Art Space, Albuquerque 2000
Brave New World, McCray Gallery, Silver City, NM 1999
Leaves and other Departures, Solo Show, Santa Fe Contemporary Art 1998
Public Art Collections/ Awards
City of Albuquerque Art in Municipal Places Collection 2023
Conceptions Southwest, University of New Mexico 2018, 2019
City of Albuquerque Public Art 2009
Bernalillo County Art in Public Places Program 2006
Design / Color Award, Boundary Crossing, ENMU Roswell NM 2004
NM Art in Public Places, Western New Mexico University 2003
Events
June 13, 2022

Art Fluent

August 6 - 28, 2021

Weyrich Gallery Albuquerque NM

Opening 3-6 pm Friday August 6

June 24 - December 24, 2020

CaFE wesbite Features Page

oasis acrylic on canvas 24"H x 20"W x 1.5"D
Galleries
| | |
| --- | --- |
| | Wabi Sabi |
| | 2935 Louisiana Blvd. Ne #D Albuquerque NM 87110 |
Contact
Linda Holland
PO Box 4120
Albuquerque NM 87196